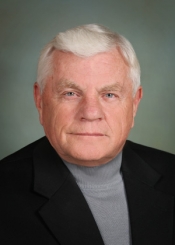 Bruce Stockwell
Management Trustee
Bruce served a variety of officer positions as well as a one-year term as President of SMACNA in 1992. He served as a trustee of the SMACNA Group/Business Insurance Trust and Sheet Metal and Air Conditioning Contractors' National Industry Fund of the United States (SMACN-IFUS).
Stockwell has served his local chapter, Michigan – SMACNA, as president, vice-president and treasurer, as well as chaired the Sheet Metal and Air Conditioning Political Action Committee and the Specialty Contractors Workers' Compensation Plan of Michigan.
In addition, Stockwell has been a member of the Insurance and Energy Management Institute of Michigan Committees. He has served as a trustee on the Local 7 Zone 3, Pension and Health and Welfare Funds, and Local Labor Committee.
He has served as a management trustee on the National Pension Fund since 1994.